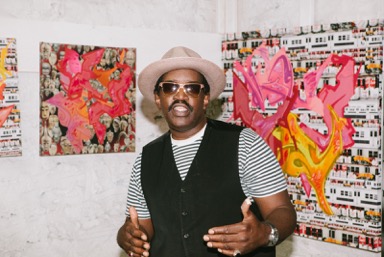 We asked hip hop pioneer and star of
our November 18th YoungArts Salon
, Fab 5 Freddy, to tell us his emerging/young artist tale (since that's our thing at YoungArts) - through a playlist. He took on the challenge valiantly and sent us this collection of groovy tunes. Enjoy and share the playlist
on Spotify
, and read on for notes from Fab himself on his song choices.
—
1. Max Roach, "All Africa"
Max Roach, the legendary jazz drummer, was my dad's life-long friend and my godfather. His "We Inisist!" album is considered one of America's first protest records coming out in 1960 as protest would soon start all over the country for civil rights, women's rights, anti-war and lots more. It's one of the first records I'd become aware of while exploring my parents' records collection, and the cover of the album [not included in Spotify, but embedded below] I felt was troubling and engaging, and my dad would explain it's an image of black folks protesting. This "All Africa" song is one of my favorites.
2. Shirley Ellis, "The Name Game"
As a little boy, I loved this record's clever word play and concept. As rap music would develop much later, I'd recall how rap-like this record was, way before the genre [rap] would emerge.
3. James Brown, "Say It Loud"
When I was a kid, black folks were referred to as negro or colored but this song changed that forever.
4. Marvin Gaye, "Whats Going On"
In the 70s when this song came out - and me living in a very socially-aware and conscious household - this song perfectly encapsulates many conversations my dad and his friends would have during those times, as well as what was often on the news back then.
5. Sly & The Family Stone, "Stand"
"Stand" is one of many Sly Stone songs I love, and another protest-type record typical of my childhood.
6. Manu Dibango, "Soul Makossa"
This very African-sounding dance record was played a lot on WBLS in NY in the early 70s and was a huge hit at the time. Frankie Crocker was running WBLS, the first FM station in New York to focus on black music, and he made this record a huge hit. Michael Jackson wold later use the main rift from this song on his hit, "Wanna Be Starting Something."
7. Barry White, "Ecstasy"
One of the coolest artist from the 70s. A big elegant man with a big baritone voice and smooth sexy lyrics with sophisticated funk and classical orchestration. In the hip hop cult film, "Wild Style," that I star in, I reference Barry White in a scene in the film.
8. Stevie Wonder, "I Wish"
Stevie Wonder: a huge part of my 70s music listening. He never made a bad song and every note was always perfect.
9. MFSB, "Love Is The Message"
DJs have taken to the streets by the mid 70s all over NYC playing music not heard on the radio. This song was crowned "the anthem" and was great to do every dance to, including the hustle. As rapping and hip hop begins, this song is a NY DJ favorite.
10. Chic, "Good Times"
NY Street DJs made this song huge in the late 70s as the disco style they popularized is now going global again with a huge radio boost from Frankie Crocker on WBLS and disco clubs are opening everywhere. But rapping is developing into hip hop [during this time], since those DJs also love cutting, scratching and mixing this song as rappers make it their favorite.
11. Grandmaster Flash & The Furious Five, "The Message"
Rapping and hip hop in NYC is still underground music and a few hits have emerged, but this song is the game-changer that shows this infant genre has the ability to perfectly address social issues effecting many living in neglected, poverty-stricken, crime-filled areas in NYC, like the South Bronx.
12. Blondie, "Rapture"
Blondie's Chris Stein and Debbie Harry became mentors to me in the early 80s and supporters of my efforts to be a visual artist and have an impact on pop culture. I schooled them on all these new cultural activities emerging from NYC's urban areas and even took them to a Bronx party to see some raw hip hop music in action. This all inspired them to make, "Rapture", the first song with rap in it to go No. 1 [on the
Billboard
Hot 100 charts].
—
For more info on our Salon Series, sponsored by the John S. and James L. Knight Foundation, visit www.youngarts.org/salonseries.